Riku
What is Riku?
---
Riku is the world's first Artificial Intelligence enabled automatic Rice and Curry maker. Riku is designed to transform you be a great chef with little effort.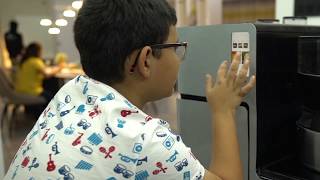 ---
How many different meals can Riku cook?
---
Riku can cook any single pot recipe which involves the following cooking process: Sauteing, Steaming, Frying, Boiling & Simmering. Almost 60% of curry style recipes can be cooked using these operations. Paneer Butter Masala is on of our favourite :)
---
What are Riku's dimensions?
---
Riku was designed to sit on kitchen counter & islands. The box dimesions are 14.5" x 20.8" x 12.5"
---
How can I clean Riku?
---
When we designed Riku, hygiene was one of the top priorities. Every part that is in contact with food is removable and dishwasher safe.
---
When does Riku need internet access and how will security be ensured?
---
Riku does not need wi-fi connected all the time. However to receive the latest recipes, security updates and access to smart features (ie: remote monitoring, control from the App) Riku will need to be connected to the internet. This also allows Riku to receive the latest algorithms to cook your meals even better! We have a security first approach to software, personally identifiable information is never sent to our servers.
---
When can I buy Riku?
---
We are currently in the prototyping phase with heavy testing being conducted to ensure every part of Riku works smoothly. We are planning on launching our Indiegogo campaign in Q1 2022. Our first deliveries should start in Q2
---
Can I buy Riku in Europe and Middle East?
---
Absoultely. Our campaign is open to everyone across the world and our shipping partners are capable of shipping to over 20 countries.
---
Does Riku need wifi connection ?
---
Yes! This allows us to send you the latest recipes and updates to make sure you have the best cooking experience. Having it connected to Wi-fi will also allow you to remotely monitor and control Riku through the mobile app
---
---
Warranty
What is the warranty on your products?
---
All our hardware products (Riku & Semi) have a 1 year replacement warranty period. Take a look at our warranty policy in the footer below,
---
---
Buying Riku
Can I buy on any other platform other than Indiegogo?
---
Yes. After our Indiegogo campaign we are planning to allow our customers to order Riku on our website. However, being our early supporter you will get the best discount only during our Indiegogo campaign. So don't miss out!
---
---
Riku App
Does Riku come with a Mobile App ?
---
Riku.Ai is our mobile app that let's you manage, control, cook and log great tasting meals. It come full of other features like personalized meal plans, pantry management and family sharing
---
Do I have to pay for the mobile app?
---
No, the mobile app is free for all users. It might have some paid premium content like curated recipes from world famous chef's.
---
Do I have to use Riku with the mobile app?
---
While Riku does need an app for the inital set up, it is not needed every time you cook. However there are a few features that are only available on the app such as recipe creation, remote viewing and control.
---
---
Crowdfunding
When is the Riku crowfunding campaign planned for?
---
We are hoping to launch our crowdfunding campaign in Q1 2022. Sign up to stay tuned!
---
What are the benefits of backing Riku's crowdfunding campaign?
---
There are many! First and foremost is that you'll be getting a large discount on the MRP and be one of the first people in the world to receive Riku. Each tier of our campaign will have different rewards. Sign up to our newsletter to get notified when we launch.
---
---
Safety
How safe is Riku?
---
Safety is our top most priority. Every part that comes in contact to food is made with high quality, BPA free food-grade materials. The primary heating element in Riku is the Induction cooktop which can only work if a vessel is placed on it and only heats the vessel.
---
---
Recipes
How many recipes can Riku cook ?
---
Riku can cook over 500 recipes, which you can customize any way you want. Adding or sharing a recipe is super easy.
---
---