General
What is Riku?
---
Riku is the world's first Artificial Intelligence enabled automatic Rice and Curry maker. Riku is designed to transform you be a great chef with little effort.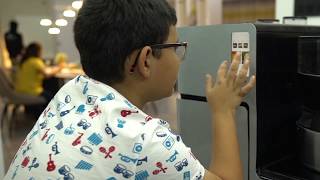 ---
How many different meals can Riku cook?
---
Riku can cook any single pot recipe which involves the following cooking process: Sauteing, Steaming, Frying, Boiling & Simmering. Almost 60% of curry style recipes can be cooked using these operations. Paneer Butter Masala is on of our favourite :)
---
How can I clean Riku?
---
When we are designing Riku, Hygine was one of the top priorties. Every part that touches the food is washable and can be placed in a dishwasher.
---
What is your timeline, when can I expect Riku to be delivered?
---
We currently putting final adjustments to make Riku production ready and make sure it's perfect when you recieve it. We are planning to launch our Indiegogo campaign in September 2020. Our first deliveries should start in Decemeber 2020.
---
Can I buy Riku in Europe and Middle East?
---
Absoultely. Our campaign is open to everyone across the world and our shipping partners are capable of shipping to over 20 countries.
---
Does Riku need wifi connection ?
---
---
---
Warranty
Does Riku have warranty?
---
Yes, we offer a 1yr replacement warranty.
---
---
Orders
Can I buy on any other platform other than Indiegogo?
---
Yes. After our Indiegogo campaign we are planning to allow our customers to order Riku on our website. But being our early supporter you will get the best discount only during our Indiegogo campaign. So don't miss out
---
Is Riku avialable in retail stores?
---
We are working with various partners to make this happen, negotiations are happening as you are reading this :). Our current estimate is that you can buy Riku in your nearest reatil store in Q1 2021.
---
---
Product
What are Riku's dimensions?
---
Riku was designed to sit on kitchen counter & islands. The box dimesions are 14.5" x 20.8" x 12.5"
---
When does Riku need internet access and how will security be ensured?
---
Riku needs to connect to the internet to get the latest algorithm that makes it cook better. We have a security first approach to software, personally identifyable information is never sent to our servers.
---
---
MobileApp
Does Riku come with a Mobile App ?
---
Yes we will be release Riku.Ai mobile app so that you can manage, control, cook and log great tasting meals.
---
Do I have to pay for the mobile app?
---
No, the mobile app is free for all users. It might have some paid premium content like curated recipes from world famous chef's.
---
---
Crowdfunding
When is the crowfunding campaign planned for?
---
We are hoping to launch our crowdfunding campaingn in the month of September 2020.
---
---
Safety
How safe is Riku?
---
Safety is our top most priority. Every part that come in contact to food is made with high quality BPA free food-grade materials.
---
---
Recipes
How many recipes can Riku cook ?
---
Riku can cook over 500 recipes, which you can customize any way you want. Adding or sharing a recipe is super easy.
---
---